Transport Malta certifies Malta Air, a subsidiary of Ryanair Group
Press Release 11 JUNE 2019:
Transport Malta tiċċertifika lil Malta Air - kumpanija sussidjarja tar-Ryanair grupp
Il-kumpanija Malta Air fi ħdan il-grupp Ryanair se tkun is-37 operatur li għażel il-ġurisdizzjoni Maltija
Id-Direttorat tal-Avjazzjoni Ċivili (CAD) fi ħdan Transport Malta ħabbar li l-kumpanija Malta Air ingħatat l-Air Operator Certificate (AOC) u l-Air Operator License (AOL) biex issir is-37 linja tal-ajru li għażlet il-ġurisdizzjoni Maltija sabiex tibda topera fija. Malta Air se tkun kumpanija sussidjarja tal-akbar linja tal-ajru fl-Ewropa, Ryanair.
L-ajuplani ta' din il-linja tal-ajru se jkunu bbażati f'Malta u f'pajjiżi oħra tal-Unjoni Ewropea.
Il-Kap Eżekuttiv ta' Ryanair, Michael O'Leary, sostna li huwa ta' sodisfazzjon kbir li l-linja tal-ajru Malta Air se tkun parti mill-grupp tal-linji tal-ajru Ryanair. Din il-linja tal-ajru se tkun qed itajjar il-bandiera Maltija lejn aktar minn 60 destinazzjoni madwar l-Ewropa u l-Afrika ta' fuq. O'Leary qal li l-kumpanija qed tħares 'il quddiem sabiex tkompli tkabbar l-operat tagħha li se jkun ibbażat f'Malta matul it-tliet snin li ġejjin.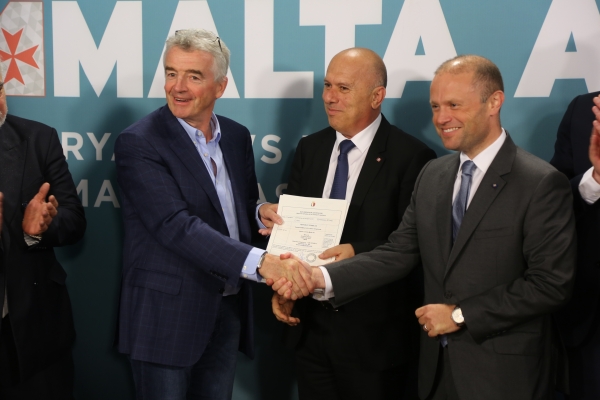 Michael O' Leary f'isem il-kumpanija Ryanair irringrazzja l-kompetenza tad-Direttorat tal-Avjazzjoni Ċivili fi ħdan Transport Malta sabiex il-linja tal-ajru Malta Air ikollha l-liċenzji neċessarji biex topera ajurplan tat-tip B737 u jħares 'il quddiem li jkompli jaħdem mill-viċin mal-awtoritajiet Maltin biex fis-snin li ġej jiżdiedu aktar minn 50 ajruplan mar-reġistru Malti.
Min naħa tiegħu, id-Direttur Ġeneral tal-Avjazzjoni Ċivli fi ħdan Transport Malta, il-Kaptan Charles Pace, qal li sodisfatt li id-Direttorat ħadem u ta l-kontribut essenzjali tiegħu biex din il-linja tkun tista' topera minn pajjiżna. Filwaqt li rringrazzja lil Ryanair u Malta Air tal-fiduċja li taw lil pajjiżna, huwa rringrazzja wkoll lill-Ministru Ian Borg u ċ-Ċermen Joseph Bugeja tal-appoġġ tagħhom f'dan il-proġett. "Grazzi speċjali tmur lill-ħaddiema tas-CAD tal-ħidma tagħhom biex tiġi proċessata l-applikazzjoni tul dawn l-aħħar tliet xhur", qal il-Kaptan Pace. Id-Direttorat iħares 'il quddiem għar-relazzjoni li bdiet ma' Malta Air u li se tkompli tkabbar l-industrija tal-avjazzjoni. Saħaq li minkejja li sar ħafna xogħol, ix-xhur li ġejjin ħa jkunu ferm aktar impenjattivi b'aktar ajurplani jiżdiedu mal-flotta tal-Malta Air, bil-għan li din il-linja tal-ajru tkun waħda mill-akbar fl-Ewropa.
L-ewwel ajurplan se jkun reġistrat bħala B738 S/N 44782 bir-regisration marks 9H-QAA.
 
---
Transport Malta certifies Malta Air, a subsidiary of Ryanair Group
Malta Air, company within Ryanair Group, will be the 37th airline operator registered in Malta
The Civil Aviation Directorate (CAD) within Transport Malta announced that Malta Air has been awarded an Air Operator Certificate (AOC) and Air Operator License (AOL) to become the 37th. air operator operator to select Malta as their jurisdiction of choice. Malta Air is a subsidiary of Europe's largest airline Ryanair.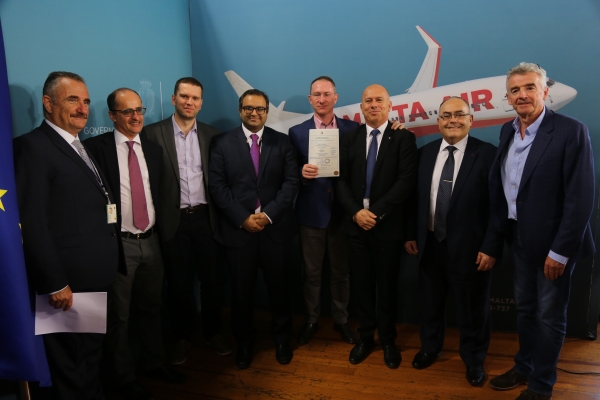 The airline will be based in Malta and other countries within the European Union.
Ryanair Chief Executive Officer, Michael O'Leary, said that Ryanair is pleased to welcome Malta Air to the Ryanair Group of airlines. Malta Air will proudly fly the Maltese name and flag to over 60 destinations across Europe and North Africa as we look to grow our Maltese-based fleet, routes, traffic and jobs over the next three years.
O'Leary said that Ryanair appreciates the expertise of the Maltese Civil Aviation Directorate in licensing Malta Air to operate the B737 aircraft and look forward to working closely with the Maltese Transport Authority over the coming years with the aim of adding over 50 more aircraft to the Maltese register.
Captain Charles Pace, Director General of the Civil Aviation Directorate within Transport Malta, stated he is thrilled with this announcement and would like to thank Ryan Air and Malta Air for choosing Malta.
He went on to thank Minister Ian Borg and Chairman Joseph Bugeja for their support. A special thanks goes to the CAD employees for their efforts in processing the application over the last three months of intensive review. CAD looks forward to a long and prosperous relationship with Malta Air and to push for further growth in the Malta Aviation Cluster. He added that although a lot of work has already been done by the Directorate, the coming months will see much more activity with additional aircraft being added to the registry, making Malta Air one of the major airlines in Europe.
The first aircraft will be registered as B738 S/N 44782 bearing registration marks 9H-QAA.