Award-winning cabin crew training organisation to start operating from Malta
Press Release 5 JUNE 2019:
Waħda mill-aqwa kumpaniji għat-taħriġ tal-Cabin Crew se tibda topera minn Malta
Id-Direttorat tal-Avjazzjoni Ċivili fi ħdan l-Awtorità Transport Malta tgħat ċertifikat ta' Cabin Crew Training Organisation (CCTO) lill-kumpanija Corporate Flight Training (CFT) biex tkun tista' tibda topera minn Malta. CFT rebħet l-unur tal-aqwa Safety Training Provider Ingliż fl-Air Transport Awards tas-sena 2019.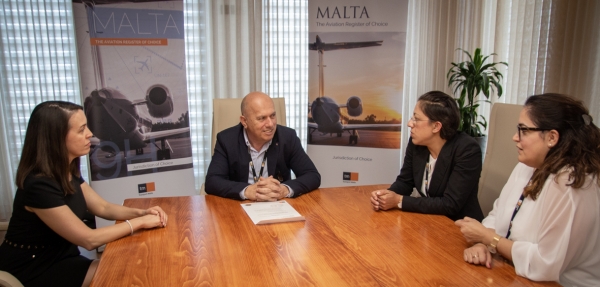 Il-kumpanija Corporate Flight Training tipprovdi korsijiet ta' sigurtà lill-ekwipaġġ tal-ajru miċ-ċentru tat-taħriġ fl-ajruport ta' Luton. Dan issa se tkun qed tagħmlu wkoll minn pajjiżna. CFT tispeċjalizza f' taħrig għal operaturi tal-avjazzjoni kummerċjali, toħroġ attestazzjonijiet għall-ekwipaġġ tal-ajru taħriġ lill-linji tal-ajru Ewropej permezz tal-akkademja tagħhom, CCA EU Academy.
Apparti li l-kumpanija hija isem importanti ferm f'din l-industrija u li taħdem ma' bosta operatturi, CAT kien strumentali biex jiżdiedu l-istandards ta' sigurtà fl-industrija tal-avjazzjoni. Min naħa tagħha, Yasmin Milner, il-Kap tat-taħriġ ta' CFT qalet li kien pass naturali li l-kumpanija timxi lejn Malta minħabba l-fatt li f'Malta l-industrija tal-avjazzjoni kull ma jmur qed tkompli tikber, b'bosta operaturi qed jirrilokaw f'Malta. Dan huwa sinjal għalina li Malta qed twassal servizz ta' kwalità.
Dan it-taħriġ se jkun qed jingħata darbtejn fix-xahar f'Malta u Luton, l-Ingilterra.
Id-Direttur tad-Direttorat għall-Avjazzjoni Ċivili, l-Kaptan Charles Pace, qal li CFT hija ħolqa oħra minn kullana ta' kumpaniji li qed jaraw opportunitajiet tajba f'pajjiżna u b'hekk qed jinvestu fl-industrija tal-avjazzjoni Maltija għaliex jemmnu li l-ġurisdizzjoni tagħna hija waħda kompettivita ferm madwar id-dinja.
---
Award winning cabin crew training organisation to start operating from Malta
The Civil Aviation Directorate within Transport Malta awarded a Cabin Crew Training Organisation (CCTO) certificate to Corporate Flight Training (CFT) to start operating from Malta. CFT is an award-winning Cabin Crew and Aircrew Training Organisation, voted best UK Safety Training Provider in the Air Transport Awards of 2019.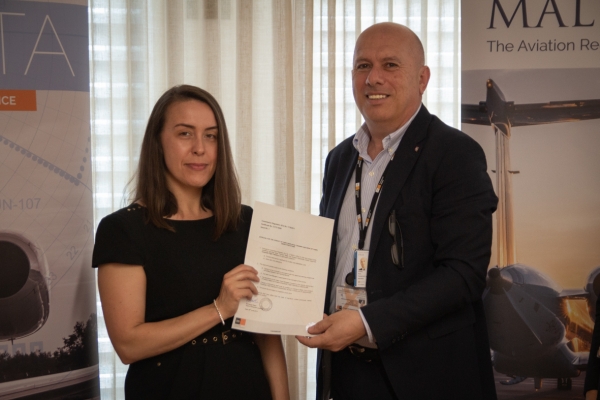 The company delivers aircrew and cabin crew safety training courses from their Luton Airport Training centre and are now are able to offer training in Malta. The company specialises in third party training provision for business aviation operators, the issuance of Cabin Crew Attestations and through their new CCA EU Academy training provision for European commercial aircraft operators and airlines.
As well as being a well-regarded business aviation training provider who works with many business aircraft operators, the company has been instrumental in promoting increased safety and service standards for corporate aircrews. Yasmin Milner, CFT Head of Training, said that given the number of business aviation operators based in Malta, it was a natural progression to move the CCTO to Transport Malta's Civil Aviation Directorate (CAD-TM).
Training courses will be delivered twice monthly in both Malta and Luton, in the United Kingdom.

Captain Charles Pace, Director of the Civil Aviation Directorate said that CFT joined many others who have selected Malta and CAD-TM as their jurisdiction of choice offering a wide range of opportunities within the Malta Aviation Cluster.