Alternative route to Transport Malta offices in Paola
Press Release 12 DECEMBER 2019:
Due to road works related to the Marsa Junction Project, clients requiring services from Transport Malta offices in Paola, are advised to go through Sir Paul Boffa Avenue and turn left after the fuel station. The usual access from Santa Luċija Avenue will be closed until this phase of the project is completed. The route is better explained in this map.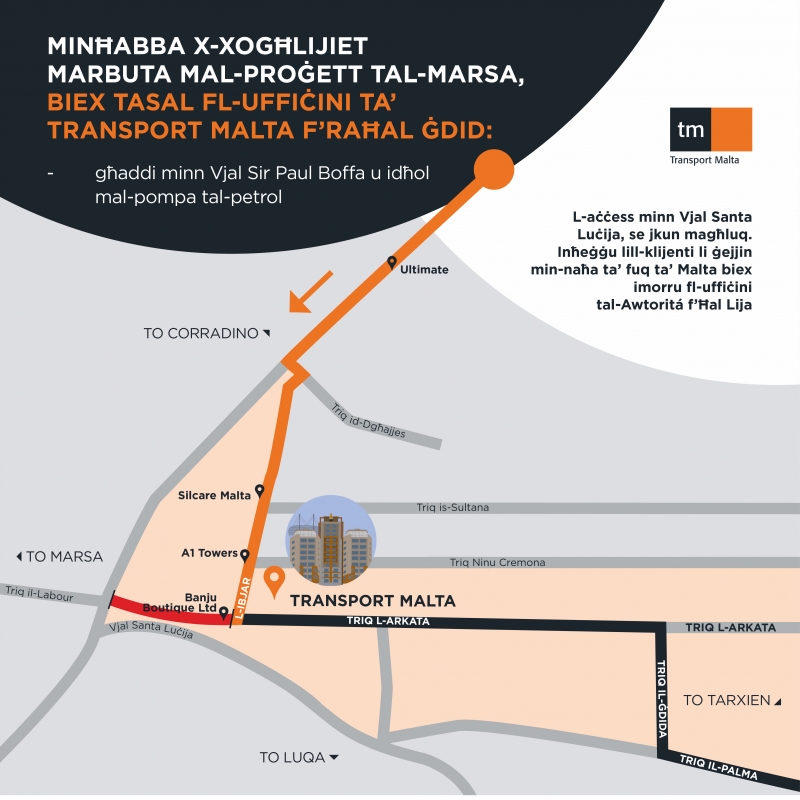 Clients from the north of Malta are urged to visit the Authority's offices in Ħal Lija.
Transport Malta offices in Paola and Ħal Lija offer services in relation to vehicles including registration, change of ownership, scrapping, and garaging. License renewal, driving license alterations and learner permits are also offered at Ħal Lija offices.
Other services related to vintage vehicles, transactions related to Public Service Garage permits, releases or information on towed or vehicles in compound and inspection of vehicles are only provided from Paola offices.
The offices are open Monday to Friday between 07:30hrs and 12:00hrs. On Mondays, the offices in Ħal Lija are open until 14:00hrs. Paola offices are open till 14:00hrs on Wednesdays.
For more information, the public is encouraged to visit our website www.transport.gov.mt or call on 8007 2309.