Trackless Trains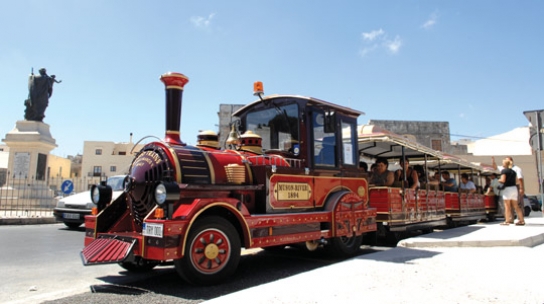 Trackless trains are articulated vehicles pulling a number of carriages, and which travel at a speed of not more than 25km per hour. They are identified by the letters TRY followed by three numbers.
The driver operating the service shall need to be in possession of a Driver Permit Tag. For more information please click here 

Trackless train services were first introduced in Malta in 2008 with the implementation of a specific route in Rabat, Malta. The aim of this service was to provide tourists and locals alike with the unique opportunity of experiencing some of the best cultural and historic sites in the area in a fun loving and colourful way.

The immediate success brought about by the introduction of this route, spurred the Authority to extend this service to other touristic localities, particularly St Paul's Bay and Gozo, where fixed routes servicing these localities are now also in operation.
Special Trackless Train Services
Besides these fixed routes, Transport Malta also authorises trackless trains to be used temporarily for particular events in any locality. An application for such authorisation must be submitted to Transport Malta by the relative Local Council.

The trackless trains operating on these routes are all articulated vehicles pulling a number of carriages, and which travel at a speed of not more than 25km per hour. They are identified by the letters TRY followed by three numbers.

Passengers travelling on trackless trains are allowed to board and alight the trackless trains only from the established standing point along each route. Operators are obliged to adhere to the timetables, fares and service conditions which they advertise and which are normally printed on the service brochures. These brochures can be obtained from the operators themselves.

View Routes established by Transport Malta