Registering and Licensing an e-Kickscooter
Registration and Licensing Process
Transport Malta is now registering and licensing e-Kickscooters manufactured for the purpose of being used as scooters with an auxiliary electric motor producing a travelling speed of not more than 20 kilometres per hour; which use will be limited and restricted to specific routes. This is being done in accordance with the Micromobility Regulations (S.L.499.67)
Prior to the registration, the owner of the said e-Kickscooter shall take the vehicle to the Authority's Technical Unit in Paola in order to have it inspected. The Technical Unit personnel will confirm whether such vehicles are in line with regulations 6, 7 and 9 of the Low-Powered Vehicles and Pedal Cycles Regulations (S.L.65.26)
The following documents shall be submited to the Authority at the time of registration:
Application form VEH 001;
Application Form VEH 004 or VEH 005, duly filled and stamped by the Customs Department, if imported from a State which is not a Member State of the European Union;
Invoice and other documents showing the CIF price;
Technical specifications of the vehicle (to be verified by the Authority's Technical Unit prior to registration) matching vehicle's serial number;
Third-party risks insurance in compliance with the requirements of the Motor Vehicle Insurance (Third-Party Risks) Ordinance.
 
The registration of an e-Kickscooter shall be made against the payment of an administrative fee of €10.00 payable to the Transport Malta. Vehicles registered individually for private use will be issued a licence free of charge, while those registered for hire and reward will be subject to an annual €10.00 administration fee.
The owner must also be in possession of a legally valid identification document, plate and licence disc for the vehicle to be used.
 Roads where use of e-Kickscooters is forbidden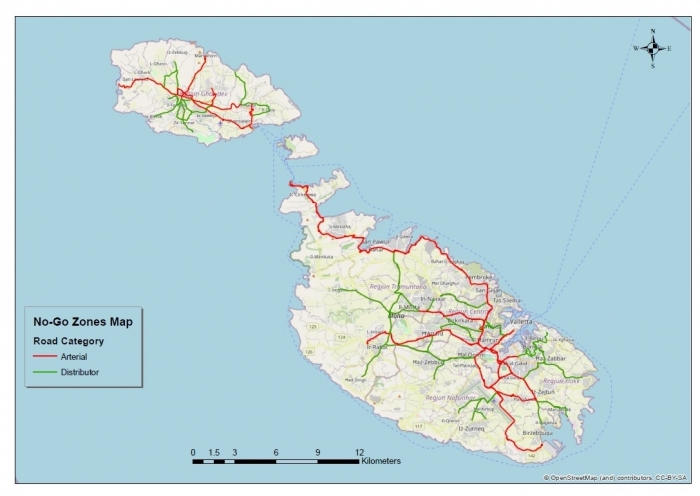 Driving e-Kickscooters
No person shall ride an e-Kickscooter on the road unless that person has reached the age of 16 years and has satisfied the Authority that he or she has some knowledge of the Highway Code through a theory test.
The following are required to apply for and obtain the AM category:
Application form DRV 007;
Medical certificate (included in DRV 007);
Fee of €31.00 (valid for three years).
A counterpart and photo card licence with the AM category will be issued to successfull applicant for a probationary period of three years. 
For information about payment methods accepted by Transport Malta refer here.
Last Updated: 05/01/2022