Sightseeing Transport Services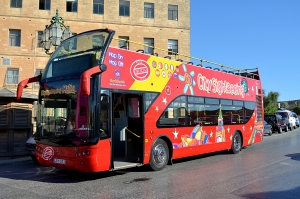 Sightseeing Transport Routes are hop-on/hop-off routes which have been devised and established by Transport Malta with the main aim of providing tourists and locals alike with the opportunity of experiencing in a unique way some of the Maltese Islands' main cultural sites and popular places of interest. There are two established sightseeing transport routes in Malta (popularly referred to as the North and South routes) and one in Gozo. These are mainly serviced by open top buses and vintage buses owned by a number of establised transport operators.
Operators are free to set their own timetables, but are bound to drop off and pick up passengers on designated stops along these routes and to adhere to the timetables and service conditions that they advertise. These are normally printed on the brochures, which may be obtained from the operators themselves.
For more information please click here
The fees charged for these services are unregulated and tickets can be bought directly from the commercial premises of the operators, from outlets which are licensed to carry out a commercial activity, from designated pick-up and drop-off points along the routes or from onboard the buses.
Below is a description of vehicles that are normally authorised to service sightseeing transport routes:
Open top buses: These may be single or double deck open top passenger transport vehicles having at least thirty passenger seats. They can be of any colour but not identical or similar to the colour of the motor route buses. Their registration number should include a letter followed by the letters OY or PY followed by three numbers.
Vintage buses: These are traditional buses having their engine compartment situated in front of the windscreen.Their registration number should include a letter followed by the letters XY followed by 3 numbers.

Vintage buses may provide the following services:
Sightseeing Transport Services on pre-determined routes established by Transport Malta; and
Special Vintage Bus Services, operated under a temporary licence granted by Transport Malta to operate a service consisting of either one single trip or one return trip, subject to certain conditions established by Transport Malta
An application form to operate Special Vintage Bus Services may be downloaded here.

The following are the the main stops along each sightseeing transport route established by Transport Malta.
 
Ċirkewwa, Mellieħa/Għadira Bay, Mellieħa (near cemetry), Anchor Bay, Xemxija, Mellieħa (Golden Bay), Mġarr (ta' Ħaġrat/Skorba Temples), Fortizza Dwejar, St Paul's Bay, Triq Għawdex, Baħar iċ-Ċagħaq, St Julians (St George's Bay), St Julians (Spinola Bay), Balluta Bay, il-Fortizza ta' tas-Sliema, Sliema Ferries, Valletta Ferries, Valletta War Museum, Malta Experience, Valletta Waterfront, Auberge de Castille, Mosta Dome, ta' Qali (Crafts Village/Aviation Museum, National Stadium), Mdina, Rabat (Domus Romana), Magdalene Chapel, Dingli Cliffs.
SOUTH ROUTE
Limestone Heritage, Ħaġar Qim Temples, Wied iż-Żurrieq, Blue Grotto Avenue, Għar Dalam, Birżebbuġia (St Georges Bay), Marsaxlokk (San Luċjan Tower) and (Xatt is-Sajjieda), Ġardin Luqa Briffa, San Girgor Church, Torri Mamo, Marsaskala (Pjazza Dun Tarċis Agius), Rinella, Vittoriosa Waterfront (Freedom Monument), Senglea (Boiler Wharf), Tarxien Temples, Paola, Hypogeum, Valletta/Floriana Waterfront, Auberge de Castille, Vjal il-Ħelsien, Valletta War Museum, Marsamxett Ferry Valletta, Sliema Ferries.
Victoria Parking Area, Xewkija Square,Triq it-Tessuti, Xewkija, Gozo Heliport, Mġarr Terminal, Nadur (Triq Lażżru Pisani), Ramla (last stop), Ġgantija, Calypso, Marsalforn, Xlendi, Fontana, ta' Pinu, Għarb Square, Dwejara (last stop), ta' Dbieġi (Crafts Centre), Xewkija Industrial Estate (Sauna Creations). 
Page last updated: 02/08/2022