Taxis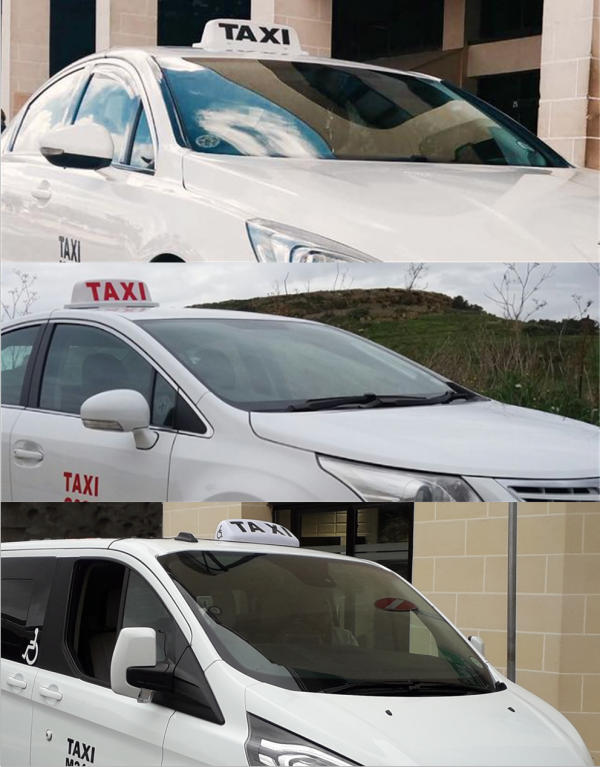 Taxis in Malta and Gozo
Taxi Services in Malta and Gozo are regulated through the Taxi Services Regulations - S.L.499.59.
All taxis in Malta and Gozo are white in color, although they may carry adverts on the rear part of the vehicles.
In Malta there are 250 licensed taxis. They can be recognised from the black taxi sign on the roof and black registration marks printed on the front doors. These taxis may operate to and from any location in Malta, but cannot be driven on the island of Gozo.

In Gozo there are 50 licensed taxis. They can be recognised from the red taxi sign on the roof, and red registration marks printed on the front doors. These taxis can operate trips between any localities in Gozo, and may be driven in Malta only if performing trips to the Malta International Airport or any hospital situated in Malta.

Taxis are required to be fitted with the following devices:
Taximeter with facility to print fiscal receipts;
Tracking Device;
Emergency Button(s);
2-Way Communication System;
Moreover, taxi owners may decide to install an in-vehicle CCTV System which may record the images of what happens within the taxi, but not the sound. This recorded images may only be accessed by police in the case of criminal investigations.
Taxi Drivers
Taxis may only be driven by drivers having a taxi driver permit. Drivers must wear a taxi driver identification tag issued by Transport Malta whenever they are on duty. Drivers shall also wear the uniform approved by Transport Malta.

For more information about taxi drivers please click here 
Hiring of Taxis          
Taxis may be used to travel anywhere in Malta or Gozo and may be hired by using any of the following methods:
By hailing in places where it is safe to stop;
From designated taxi stands;
By booking from taxi booths;
Through the Taxi App; or
On a pre-booking basis by phone, emails, internet, etc…
When a taxi is hired out from a location where there is no authorised taxi booth, the fare is calculated through the use of a taximeter that calculates the fare based on the following structure:
| | |
| --- | --- |
| Fare | Price |
| Initial | €3.50 |
| First 1km | €2.50 / km |
| From 1km to 5km | €1.60 / km |
| From 5km to 10km | €1.40 / km |
| From 10km to 15km | €1.30 / km |
| From 15km to 20km | €1.00 / km |
| From 20km onwards | €0.85 / km |
Waiting charge applies when taxi is stationary for at least 3 consecutive minutes: €25 per hour (€0.42/minute).
Traffic charge applicable when taxi drives less than 1 km during 3 consecutive minutes: €4.20 per hour (€0.07/minute).
On the 25th December and on the 1st January of each year there is a flat additional charge of €4.50 for every trip. These fares are the maximum that may be charged for a taxi trip. The taxi driver may give customers discounts on the above fares.
When a taxi is hired to carry more than 5 passengers, in addition to the driver, the above mentioned fares shall be increased by 50%. This applies only to taxi vehicles which may legally carry more than 6 people. 
Page last updated: 06/04/2022