Licence
Driving Licence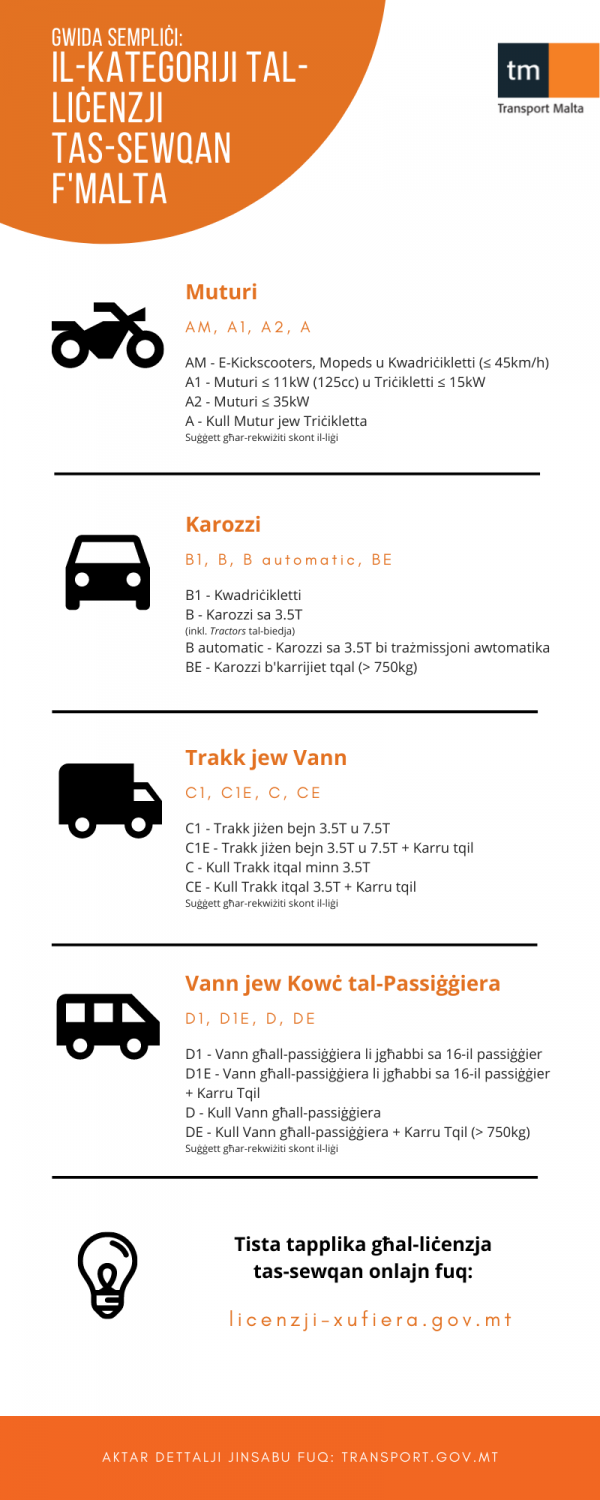 One requires a valid driving licence or learner's permit issued by Transport Malta to be able to drive in Malta. The minimum age to drive in Malta is 18 however other minimum ages requirements are applicable to different licence categories. Read more about the process to obtain a driving licence. 
Holders of valid driving licences issued in any other EU Member State can also drive in Malta without the need to obtain any additional permits. They are also able to exchange their driving licence for a Maltese driving licence as long as they have taken up normal residence in Malta for at least 185 days. Read more about exchanging your EU driving licence.
Any person holding a licence issued outside Malta and the European Union shall be entitled to drive in Malta for a period not exceeding twelve months from the date of his last entry into Malta. Driving licences issued in Australia, Switzerland and the United Arab Emirates (only in case of Maltese or UAW nationals), can also be exchanged for a Maltese driving licence. Read more about exchanging your foreign driving licence.
The Maltese driving licence consists of two documents, namely, the photocard driving licence and the counterpart driving licence. The photocard driving licence is a credit card format document which displays the driver's photograph, personal details such as the address and signature, the driving entitlements and the driving codes. The counterpart driving licence is a document accompanying the photocard driving licence. It contains the same information shown on the driving licence card including personal details and driving entitlements and other relevant information such as the record of penalty points and driving codes. Read more about Penalty Points and Probationary Licences.
Road Licence
Every vehicle being driven in Malta must be insured, must be tested regularly for roadworthiness in an approved testing station, must have registration plates affixed to the front and back of the vehicle, and must have a valid road licence affixed to the left side of the front windscreen.
Any vehicle being driven in Malta must be registered and licensed with Transport Malta in accordance with the Motor Vehicles Registration and Licensing Act (Cap. 368) and the Registration and Licensing of Motor vehicles (Subsidiary Legislation 368.02). A nonresident may keep a foreign registered vehicle in Malta up to 7 months in a 12 month period.
Read more about Vehicle Registration and Licensing.
Driving for Commercial Purposes / Hire or Reward
Apart from the driving licence requirement, Maltese regulations require drivers of vehicles used for the carriage of passengers, to obtain a driver's permit and an identification tag. Additionally, a Certificate of Professional Competence is required in line with EU Directives to drive large passenger carrying vehicles, and heavy goods vehicles. Read more about obtaining driver permits and identification tags.
Other General Information – Driving in Malta
One has to drive his vehicle on the left side of the road.
Every person travelling in a motor vehicle, which is not a route bus, must wear a seat belt - Motor Vehicles (Wearing of Seat Belts) Regulations Subsidiary Legislation 65.12. However some exemptions apply.
For application form for first time applicants please click here.
For application forms for expiring exemptions please click here.
If you are involved in a bumper to bumper accident and no person is injured, there is no need to contact the police or local wardens. Instead, you should use the form that may be downloaded from the website of the Malta Insurance Association through this link.For any other accidents, the local wardens are to be contacted on 21 320 202. Where persons are injured, the police are to be contacted on 21224001 or 112
There are various park and ride sites which are subject to a fee.
Access fees apply when entering Valletta depending on the duration of stay. For further information on the Controlled Vehicular Access (CVA) System, please click HERE
General Information for Maltese licence holders intending to drive abroad
Maltese driving licences are valid in any other EU member state, and in countries that are party to the Geneva Convention on Road Traffic.
An International Driving Permit is needed for driving in any other country.Read more on how to obtain an International Driving Permit.
Last Updated: 15/11/2022