Ports in Maltese Islands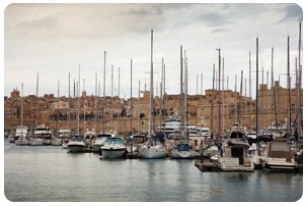 The Maltese archipelago – consisting of the Islands of Malta, Gozo and Comino – lies at the cultural, financial and geographical crossroads of the Mediterranean Sea. Malta, with Valletta as its capital, is the largest island of the group. Strategically located at the centre of the Mediterranean Sea, at the confluence of the major sea-lanes linking Europe, North Africa and the Middle East, Malta's unique position affords easy access to these markets and beyond.

The Islands cover a total area of 316 square kilometers. Malta's coastline is well indented with natural harbours as well as established ports. Historically, these ports have established the Islands as a centre for Mediterranean commerce, combining old world charm with modern port facilities.

Maritime activity centres on the 2 main Maltese ports, Valletta and Marsaxlokk, although a number of other ports occasionally host ships on international voyages, usually passenger vessels. Both are capable of providing a comprehensive package of maritime services including towage, salvage, pilotage, victualling and provisions of all kinds of stores and supplies. At the centre of countless shipping routes, these ports provide a wide variety of professional shipping services of value to major commercial entities.

The Grand Harbour of Valletta is one of Malta's main port, and one of the most spectacular natural deep water harbours in the Mediterranean. This port, girdled as it is by an uninterrupted line of historic fortifications of massive proportions, is becoming an increasingly popular port for cruise passengers and the related growth in the cruise industry. Apart from acting as a safe and secure heaven for seafaring vessels of all types and sizes, the Grand Harbour also offers a comprehensive service covering practically all maritime requirements; a service that reflects the knowledge, commitment and attention that the Maltese maritime community is today well renowned for.

The other main Port, Marsaxlokk, consists of the container terminal and industrial storage facilities which are operated by the Malta Freeport Terminals. It also houses the storage facilities of oil products terminal operated by Oiltanking Malta Limited. At this Port, Enemalta Corporation is the public entity responsible for power generation and the import of petroleum for the local market. The Gas Installation is located within this port with its LPG bottling and storage facility located at Benghajsa and operated by Gasco Energy.

The second largest island is Gozo which can be reached from Malta by ferry from the ports of Cirkewwa and Marsamxett. The main port in Gozo is the Port of Mgarr.
Tides