New 15 Million Euro Scheme for Purchase of New Electric Vehicles launched
Press Release 22 MARCH 2023: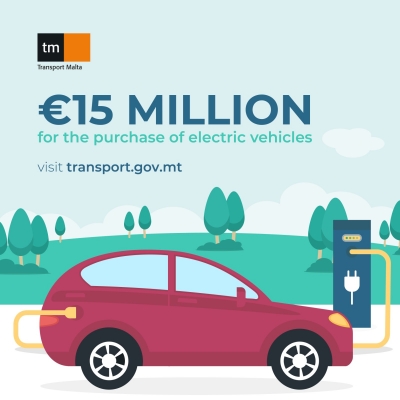 A new €15 million scheme for the purchase of new electric vehicles was launched by Minister Aaron Farrugia and Parliamentary Secretary Chris Bonett.
This scheme for the purchase of new electric vehicles including new motorcycles for private individuals, non-government organisations, businesses and private companies is funded by the recovery and resilience plan (RRP).
This grant scheme shall support the purchase of new electric vehicles in EU Category L, M and N, consisting of passenger cars, vans, goods-carrying vehicles, minibuses, coaches, quadricycles, motorcycles, and pedelecs, with the aim of reducing the number of older conventional motor vehicles from the road.
The scheme is open from 1st January 2023; more information is available on www.transport.gov.mt.
Minister Farrugia explained that this is just one scheme out of many that Transport Malta will be launching in order to promote the use of cleaner vehicles. "Through this scheme, we are continuing to promote the use of cleaner and more environmentally sustainable means of transport. This is a direct investment in people, as we are not only offering them financial help to replace their vehicle, but also a direct investment in better air quality. It is worth reminding that the transport sector is the biggest contributor to air pollution and thus as a Government, we will continue to invest in this area," stated Minister Farrugia.
Parliamentary Secretary Chris Bonett said that the scheme for electric cars financed by the RRP is helping the transport sector become more sustainable and decrease emissions caused by private cars. "€50 million are allocated over three years, where €15 million were allocated in 2022, a further €15 million will be allocated during this year and the last 20 million by the end of 2024, so that more drivers switch to electric cars," Dr. Bonett said.
Transport Malta's Chief Officer for Land Transport Pierre Montebello said that as a transport regulator in our country, Transport Malta is committed to offer more opportunities to promote better and more environmentally sustainable transport. "We launched this scheme precisely for this reason, and together with other initiatives such as free public transport, Transport Malta is ensuring that we have cleaner, more efficient and sustainable transport in our country," he added.
 For more information about this scheme, follow this link.