New Low-Emission Petrol, Diesel and Hybrid Vehicles.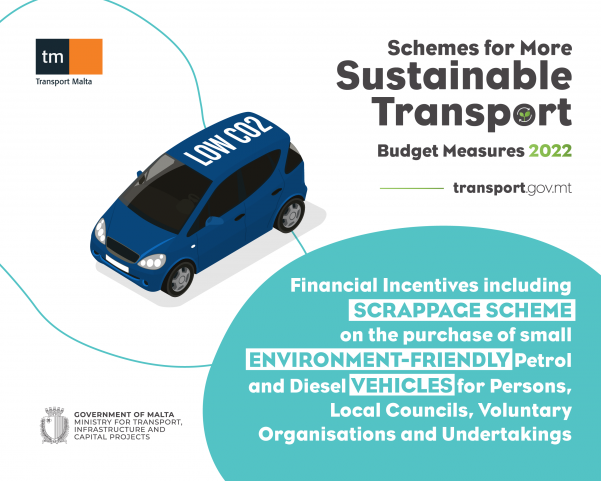 This financial incentive intends to further promote the use of new Category M1 motor vehicles with low emissions and hybrids, and is aimed at:
Persons residing in Malta; and 
Voluntary organisations (including NGOs).
The grant shall support the purchase of:
The grant includes a scrappage scheme intended to provide further financial support to applicants who, while purchasing and registering a new low emission Category M1 vehicle, deregister a Category M1 or N1 vehicle which is older than 10 years from its year of manufacture.
The budgeted funds for this scheme amount to €500,000.
The Incentive Details
Subject to the applicable conditions, the following grant ammounts shall be paid:
Up to a maximum of €1,500 when registering a new Category M1 motor vehicle; and
Up to a maximum of €2,000 when registering a new hybrid Category M1 vehicle;
These grant amounts shall be paid when the applicant de-registers a vehicle in Category M1 or N1 at the same time while registering any of the above mentioned vehicles.
Deregistered vehicles which had benefitted from the provisions of S.L.65.24 shall not be eligible for this scrappage scheme.
Applying for this incentive
An application for a grant under this scheme shall be made either by the agent/dealer/supplier or by the purchaser by submitting application form VEH038 along with any information, details and documents required therein. The purchaser of the vehicle shall be considered as the ultimate applicant in terms of this scheme.
Applications under this scheme, together with all the relevant documents, shall be submitted by the applicant during working hours or mailed to Transport Malta's Driver and Vehicle Licensing Unit (DVLU). For opening hours and addresses refer here.
Page last updated: 03 March 2022